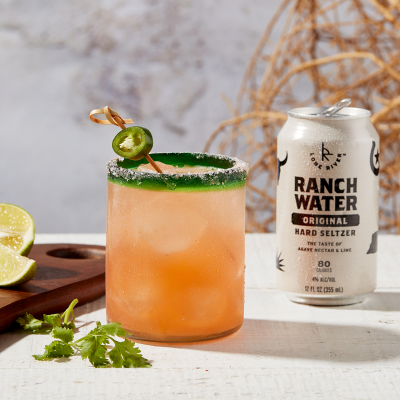 lone river west texas
tornado
INGREDIENTS
5 oz Lone River Ranch Water Original Hard Seltzer
1 oz Tequila Don Julio Blanco
0.75 oz Lime Juice
0.25 oz Agave Nectar
One Strawberry
Six Cilantro Leaves
One Slice jalapeño
GLASSWARE: Rocks/Old Fashioned
GARNISH: Sugar & Pink Sea Salt Mix
DIRECTIONS
Lightly muddle strawberries, cilantro and jalapeño in shaker tin.
Add remaining ingredients except the Lone River Ranch Water Original Hard Seltzer into shaker tin with ice.
Shake for 15 seconds.
Fine strain into ice filled glass and add Lone River Ranch Water Prickly Pear Hard Seltzer.
Contains 2 servings of alcohol.
RANCH RECIPES