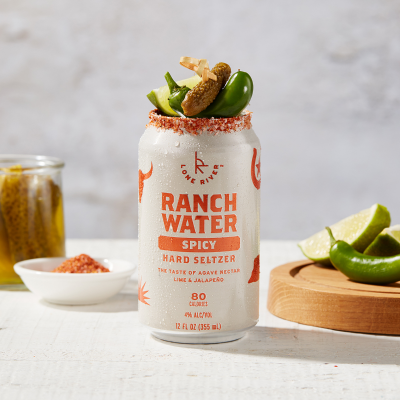 spicy michelada
ranch water
INGREDIENTS
12 oz can Lone River Ranch Water Spicy Hard Seltzer
1 oz Bloody Mary Mix
Few Dashes of Hot Sauce
Mexican Taco Spice
Kosher Salt
GARNISH: Fresh Lime Wedges, Spicy Pickles, or Hot Peppers
DIRECTIONS
Wash the top of each can.
Pour 5 oz of Lone River Ranch Water Spicy Hard Seltzer into a separate glass to drink later.
Rim with Taco Seasoning Salt.
Inside the can, mix Bloody Mary Mix, Lime, & Hot Sauce.
Garnish with Lime Wedge, Spicy Pickle or Hot Pepper and enjoy!
RANCH RECIPES